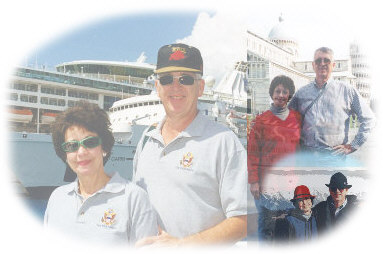 David & Judy have been around the world together and have many exciting adventures scheduled.
They are a joint travel-writing-speaking team. She delivers exciting and interesting seminars to historic, school, and church groups about the books she writes while he inspires listeners with patriotism, motivation and innovative sales ideas.
He believes in "making things happen. Nothing happens by itself - you've got to plan, encourage, guide, and create a leadership presence in every successful endeavor."
---
David R. Carney, A.S., A.A.S., B.S., M.B.A.

David R. Carney is a retired banker with years of experience as a computer consultant, author, and publisher. In addition, he has assisted a number of small businesses in developing profitable Internet web sites.

He is also an retired Army veteran and has served as a Public Affairs Spokesperson in such diverse places as Bosnia, Hungary, Japan, Thailand, and Kuwait. Carney's technical, business and public relations background make him an excellent choice to speak to your group in today's new world.
Carney graduated with High Honors from Calhoun Community College in Decatur, Alabama with a degree in Sales and Marketing, and Cum Laude from Athens State University in Athens, Alabama with a degree in business. He earned a Master's in Business Administration from the University of Alabama in Huntsville, Alabama.
Check out his fan club web site. www.DavidCarney.com
---
Judy Carney, Historic Novel Writer & Wonderful Wife

"Judy has quite an extensive history of writing historic novels and short stories. We enjoy traveling around the world regularly. We have taken many trips together and have quite an extensive agenda lined up. Judy's writing ability allows her to see the beautiful and romantic sides of the many places we travel."

Check out her fan club website www.JudyCarney.com

Vacation rentals.

Homes for sale.

Promote your business.

Make your special occasion (weddings, birthdays, baby shower, vacations) still photos into a dynamic video of memories to show your family and friends, complete with your special music, voice-overs and exciting transition effects.


Create your own personal DVD suitable for showing on your television.

Email video to your family, friends, customers, and potential clients. Email videos are viral. Everybody forwards them

Post it on the web for all the world to watch.